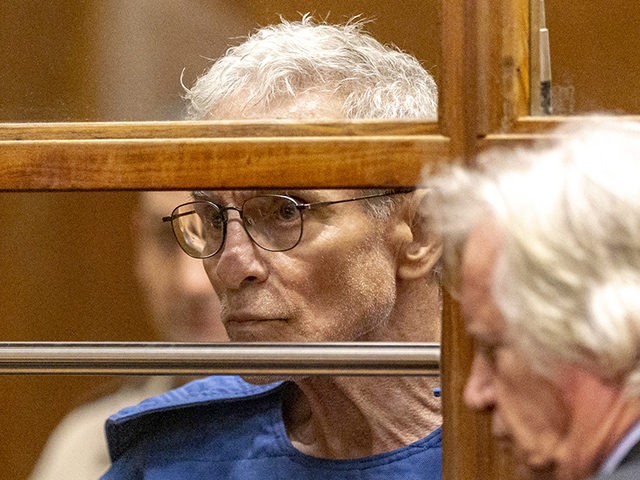 Ed Buck, a wealthy political activist and leading Democratic party donor, was found guilty Tuesday on charges he injected gay men with methamphetamine in exchange for sex, leading to two deaths and other overdoses.
A federal jury convicted Buck of all nine felony counts, which could lead to a life sentence, AP reports.
The verdict came exactly four years after one of the victims was found dead of an overdose in the West Hollywood activist's apartment.
The jury deliberated for more than four hours after a two-week trial. Prosecutors said Buck paid men he contacted on gay dating sites and provided drugs in return for various sex acts.
The 66-year-old Buck had pleaded not guilty. His defense lawyers, one of whom was a prosecutor in the OJ Simpson case, said neither fatal overdose victim died from meth and many of the alleged victims were drug addicts.
Democrat Donor Ed Buck Charged with Four Additional Felonies https://t.co/kMXqtZhDkG
Prosecutors said he expel goited vulnerable men by paying them to come to his home to use drugs and engage in sex play to satisfy a fetish. Many were destitute drug users and were involved in sex work to support their habit, as Breitbart News reported.
The defense contended all the men were at Buck's apartment under their own will and that two fatalities did not die from methamphetamine.
"I know this has been an arduous, lengthy and difficult process," U.S. District Judge Christine A. Snyder told jurors after she read the verdict, according to the Los Angeles Times.
One of the prosecutors dropped to her knees and wept in the courthouse hallway after the jury was dismissed, the Times reported.
Buck, who had given more than $500,000 in campaign contributions to failed presidential candidate Hillary Clinton, California Gov. Gavin Newsom (D), and Reps. Adam Schiff and Ted Lieu (D-CA). and causes since 2000, was also convicted of four counts of meth distribution, one count of keeping a drug den and two more counts of enticement to cross state lines for prostitution.
"Ed Buck will never harm anyone else," said Joyce Jackson, a sister of one of the deceased, "and I thank God for that."
Video: 'Scary' Polling for Democrats: 'Americans Have Lost Confidence' in Joe Biden
MSNBC's Chuck Todd Highlights 'Scary' Polling for Democrats: 'Americans Have Lost Confidence' in Joe Biden.
LOL. How is it shockingly for Republicans to be ahead in "getting things done"? Trump got a ton done in spite of all the obstruction from democrats and RINOs. What a clown;
Cause they can't give credit is do their hacks. You notice how they didn't put education up there. Cause the Republicans are crushing Dems in the polls on education. Anyone who votes dem don't care about their children's safety or future: Followers' comments
Dems Seek to Abolish Trump-Created Space Force
Democrats are introducing a bill to abolish the Space Force established by former President Donald Trump as a new branch of the military to defend American national security in the expanding world that is increasingly using satellite technology for business, communications, and defense.
As Congress moves to pass the National Defense Authorization Act (NDAA), the annual bill that authorizes funding for the Pentagon, Rep. Jared Huffman, D-Calif., introduced the " No militarization of space act," co-signed by Reps. Mark Pocan, D-Wis., Jesús García, D-Ill., Rashida Tlaib, D-Mich., and Maxine Waters, D-Calif.
"The long-standing neutrality of space has fostered a competitive, non-militarized age of exploration every nation and generation has valued since the first days of space travel" , Huffman wrote in a statement announcing the bill. "But since its creation under the former Trump administration, the Space Force has threatened longstanding peace and flagrantly wasted billions of taxpayer dollars.
threatened longstanding peace and flagrantly wasted billions of taxpayer dollars.
"It's time we turn our attention back to where it belongs: addressing urgent domestic and international priorities like battling COVID-19, climate change, and growing economic inequality. Our mission must be to support the American people, not spend billions on the militarization of space."
The U.S. Space Force was established Dec. 20, 2019, with enactment of the Fiscal Year 2020 NDAA.
"This legislation would put an end to the ill-considered rush into establishing a new military service, the Space Force, and save taxpayers billions of dollars in unnecessary spending," Taxpayers for Common Sense President Steve Ellis wrote in a statement.
"Eliminating Space Force in a year and transferring all authorities and functions back to the appropriate commands of the Armed Forces is the most fiscally responsible thing to do. To be clear, the U.S. must be a leader in space, but creating a whole new service wasn't going to accomplish that; it was just going to create a costly new bureaucracy."
The legislation is endorsed by Ellis' group along with the National Taxpayers Union, Peace Action, R Street Institute and Demand Progress.
The bill comes the same week Secretary of the Air Force Frank Kendall warned China is "acquiring a first-strike capability" with nuclear weapons and an ability to launch attacks from space.
"Only the Air and Space Forces have the ability to control the global high ground," Kendall told the 2021 Air Force Association's Air, Space, and Cyber Conference on Monday, Air Force Magazine reported. "Only the Air and Space Forces can project power on short notice to anywhere that it is needed. Only the Air and Space Forces have the ability to confront and defeat aggression immediately, wherever it occurs
"Only the Air and Space Forces have the ability to come to the aid of our global allies and partners with little to no notice when and where aggression occurs."
White House press secretary Jen Psaki, shortly after President Joe Biden took office, mocked reporters asking questions about Space Force, suggesting she did not know who runs the new branch of the military.
"I am happy to check with our Space Force point of contact," Psaki said. "I'm not sure who that is. I will find out and see if we have any update on that."
[VIDEO] 'You Think The Entire State Of Texas Is Racist?': Ted Cruz Grills Dem Witnesses On Voter ID Laws
At today's Senate Judiciary Committee hearing, Sen. Ted Cruz (D-GA) grilled witnesses on voter ID laws.