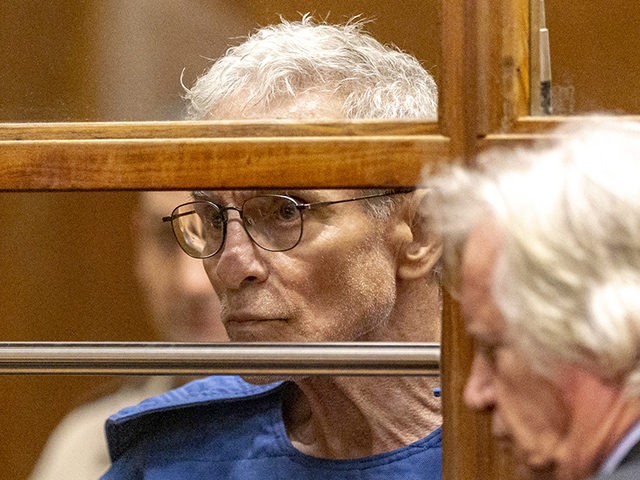 Ed Buck, a wealthy political activist and leading Democratic party donor, was found guilty Tuesday on charges he injected gay men with methamphetamine in exchange for sex, leading to two deaths and other overdoses.
A federal jury convicted Buck of all nine felony counts, which could lead to a life sentence, AP reports.
The verdict came exactly four years after one of the victims was found dead of an overdose in the West Hollywood activist's apartment.
The jury deliberated for more than four hours after a two-week trial. Prosecutors said Buck paid men he contacted on gay dating sites and provided drugs in return for various sex acts.
The 66-year-old Buck had pleaded not guilty. His defense lawyers, one of whom was a prosecutor in the OJ Simpson case, said neither fatal overdose victim died from meth and many of the alleged victims were drug addicts.
Democrat Donor Ed Buck Charged with Four Additional Felonies https://t.co/kMXqtZhDkG
Prosecutors said he expel goited vulnerable men by paying them to come to his home to use drugs and engage in sex play to satisfy a fetish. Many were destitute drug users and were involved in sex work to support their habit, as Breitbart News reported.
The defense contended all the men were at Buck's apartment under their own will and that two fatalities did not die from methamphetamine.
"I know this has been an arduous, lengthy and difficult process," U.S. District Judge Christine A. Snyder told jurors after she read the verdict, according to the Los Angeles Times.
One of the prosecutors dropped to her knees and wept in the courthouse hallway after the jury was dismissed, the Times reported.
Buck, who had given more than $500,000 in campaign contributions to failed presidential candidate Hillary Clinton, California Gov. Gavin Newsom (D), and Reps. Adam Schiff and Ted Lieu (D-CA). and causes since 2000, was also convicted of four counts of meth distribution, one count of keeping a drug den and two more counts of enticement to cross state lines for prostitution.
"Ed Buck will never harm anyone else," said Joyce Jackson, a sister of one of the deceased, "and I thank God for that."
An Online Investigator Exposes A Troubling Connection – The Dan Bongino Show
An explosive connection was found by an investigator I trust. In this episode, I address the disturbing details. I also address the latest poll showing Democrats are obsessed with living in fear.
Dan the Man! Oh and I also want to make a comment on one thing. Don't apologize for when you're ticked off and are talking crap about the left. We all are pissed and we all feel the same way. No need to apologize for being yourself, Dan. Speak your truth;
FBI Agent Busted! Capitol police detained a person after he was reported as having a handgun at the J6 protest in Washington DC last week. He was searched by Capitol Police and his FBI badge and ID were found; he was then asked where his weapon was and if he was there undercover or was there as part of the protest. He answered: "I'm just here." then told them his weapon was in his cargo pants pocket. That answer tells me that he was there not only on official business but that business was to start something like the Jan 6 riot. Just like Jan 6th, armed government provocateurs (FBI Agents) infiltrated conservative patriotic protests and looked very much like Antifa, not patriots; If they were there to infiltrate the patriots, wouldn't they want to look like the protesters who belong to that group? If you were there to be a provocateur and wanted to stir up trouble, you would look like the FBI looked; full, black mask, white sunglasses, just very punk; Also, he must have done something to stand out and be reported as having a weapon. Makes you wonder how many agents partook in the riots in Portland, NYC, Minneapolis, and elsewhere. It's totally messed up when, an honest citizen can't trust the government, never thought I'd see the day but I'm not terribly surprised with the Biden regime: Followers' comments
Listen to What Over 100,000 Unafraid People Sound Like
Now, this is a "virus" that I wish would spread around the world.
The youth of America….what a beautiful sound. Awakening…. "not woke".
We're on the same side but there are two things I would like to bring out. First, at this point, the Democrats would likely love for an open and violent rebellion. It would play right into their hands and their false narrative that the conservatives are the biggest threat and national danger. Plus it would give them the opportunity to use national emergency powers and take over completely. Second, who in their right mind wants to step up and be the first bullet stopper for the cause? You? I don't. There may come a day when we have to fight for our freedom and liberty again though I am hoping and praying it will be resolved peacefully. But there is still hope that the bullets and bloodshed won't be necessary.
In the meantime, I think what we see here is exactly what we need. Thousands of young showing they get it. Or at least they are finally feeling and understanding what it is like to have or not have freedom and liberty: Followers' comments
[VIDEO] Levin: The Democratic Party is the enemy of the Declaration of Independence
The 'Life Liberty & Levin' host reads excerpts from his book, 'American Marxism'.
"The Democratic Party is the enemy of the Declaration of Independence" : Levin