Rep. Jim Banks explained during a Fox News interview on Tuesday why he believes Democrats have "future plans" to send the Taliban aid.
"I offered an amendment to name the Taliban in Afghanistan as a terrorist organization," he told host Martha MacCallum, explaining that the Taliban in Pakistan are designated as a foreign terrorist organization, for example. "But we've always actually left that off the table as a bargaining chip, and you see where that's gotten us."
"That's why it's time to name them as an international terror organization to block any effort by this administration, future administrations, even private citizens from financially aiding the Taliban in Afghanistan, that's why the amendment matter," Banks added.
But Democrats blocked the amendment "because I believe they have future plans to legitimize the Taliban government and reward them, give them money, give them supplies moving forward," he claimed. "It appears Democrats are OK with legitimizing the Taliban."
I submitted an amendment today that'd stop our $$ from going to the Taliban… But, just a little while ago, we got word that Dems blocked it.

Only one reason why Dems would do that: They have future plans to send them aid.@marthamaccallum pic.twitter.com/PAk1bcSLS7 — Jim Banks (@RepJimBanks)
According to Axios, the House Republicans' proposed amendments to the National Defense Authorization Act are part of an effort to "attack the Biden administration and Democrats over the withdrawal from Afghanistan."
The amendments are all meant to "increase the pressure on the Taliban, isolate their regime and tighten the screws economically," a Republican Study Committee aide told Axios, which reported that all of the amendments "are expected to fail."
Secretary of State Antony Blinken has said that the U.S. only worked with the Taliban out of necessity during the evacuation effort, but in the future, it will only do so to advance America's "vital national interests."
"The Taliban seeks international legitimacy and support. Our message is: any legitimacy and any support will have to be earned," Blinken said Monday.
Biden helping secure Afghan border as unvetted migrants continue to pour into the US from Mexico
The United States is helping Tajikistan secure a portion of its border with Afghanistan to help combat security threats in the region since the U.S. troop withdrawal from Kabul Monday, despite the ongoing crisis at the U.S. border that's seeing thousands of migrants pour into the country every day.
The U.S. Embassy in Dushanbe has launched a project to construct new facilities for a Border Service detachment along the Tajik-Afghan-Uzbek border, allowing Tajikistan's border troops to deploy more quickly in response to threats in the region, the embassy said in a press release Wednesday.
"The United States and Tajikistan enjoy strong security cooperation, and this border detachment project is just another example of our shared commitment to the security and sovereignty of Tajikistan and Central Asia," Ambassador John Pommersheim said in a statement.
The project is scheduled to break ground in early 2022. When completed, the new facility will provide housing for Tajikistan's border troops and their family members, the release said.
The U.S. government has provided over $300 million in border-related security assistance to Tajikistan since 2002, the release added.
Meanwhile, the U.S. is facing a border crisis of its own. A group of 26 Republican senators, led by Sen. Tom Cotton of Arkansas, issued a letter Thursday demanding President Biden explain the vetting process for the thousands of evacuees being admitted into the U.S. since the military withdrawal from Afghanistan.
"What steps did your administration take to verify the identities of these individuals before evacuation?" the senators asked in the letter. "What steps are your administration taking to ensure that individuals are thoroughly vetted and their identities verified before entering the United States?"
Rep. Tom Tiffany, R-Wis., said during a Fox News appearance Monday that he witnessed insufficient security during his recent trip to Fort McCoy, an Army installation in central Wisconsin that currently houses thousands of Afghan refugees.
The congressman said he was stunned to find that none of the refugees he encountered were Special Immigrant Visa applicants, who have to go through a thorough vetting process that can take up to two years.
"They were all there on parole," Tiffany said. "The parole authority is granted to the secretary of the Department of Homeland Security. He can just wave people in."
At the U.S. southern border, hundreds of thousands of migrants continue to pour into the country every month. Homeland Security Secretary Alejandro Mayorkas announced in mid-August that 212,672 migrants were encountered at the southern border in July, a 13% increase over the already massive 188,000 migrant encounters in June. In July 2020, there were just 40,929 encounters.
Texas Attorney General Ken Paxton and Arizona Attorney General Mark Brnovich raised red flags over terrorism concerns at the southern border during an appearance on Fox News Thursday, calling on the Biden administration to enforce existing immigration laws.
"Make no doubt about it, people that mean America harm are crossing the southern border," Brnovich said.
Brnovich is leading a coalition of 16 states to stop the administration's so-called "Interim Guidance," which they argue "dramatically halts nearly all deportations and immigration-related arrests, including for those convicted of dangerous aggravated felonies," a press release said Tuesday.
Top Democrat Donor Ed Buck Found Guilty in Fatal Drugs-for-Sex Cases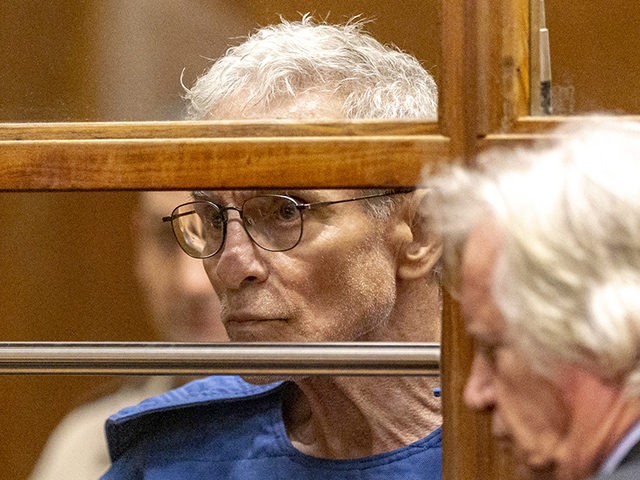 Ed Buck, a wealthy political activist and leading Democratic party donor, was found guilty Tuesday on charges he injected gay men with methamphetamine in exchange for sex, leading to two deaths and other overdoses.
A federal jury convicted Buck of all nine felony counts, which could lead to a life sentence, AP reports.
The verdict came exactly four years after one of the victims was found dead of an overdose in the West Hollywood activist's apartment.
The jury deliberated for more than four hours after a two-week trial. Prosecutors said Buck paid men he contacted on gay dating sites and provided drugs in return for various sex acts.
The 66-year-old Buck had pleaded not guilty. His defense lawyers, one of whom was a prosecutor in the OJ Simpson case, said neither fatal overdose victim died from meth and many of the alleged victims were drug addicts.
Democrat Donor Ed Buck Charged with Four Additional Felonies https://t.co/kMXqtZhDkG
Prosecutors said he expel goited vulnerable men by paying them to come to his home to use drugs and engage in sex play to satisfy a fetish. Many were destitute drug users and were involved in sex work to support their habit, as Breitbart News reported.
The defense contended all the men were at Buck's apartment under their own will and that two fatalities did not die from methamphetamine.
"I know this has been an arduous, lengthy and difficult process," U.S. District Judge Christine A. Snyder told jurors after she read the verdict, according to the Los Angeles Times.
One of the prosecutors dropped to her knees and wept in the courthouse hallway after the jury was dismissed, the Times reported.
Buck, who had given more than $500,000 in campaign contributions to failed presidential candidate Hillary Clinton, California Gov. Gavin Newsom (D), and Reps. Adam Schiff and Ted Lieu (D-CA). and causes since 2000, was also convicted of four counts of meth distribution, one count of keeping a drug den and two more counts of enticement to cross state lines for prostitution.
"Ed Buck will never harm anyone else," said Joyce Jackson, a sister of one of the deceased, "and I thank God for that."
[VIDEO] Tucker uncovers Eric Swalwel's 'suspicious' campaign expenditures
'Tucker Carlson Tonight' host takes a deeper look into the California Democrat's use of campaign funds.